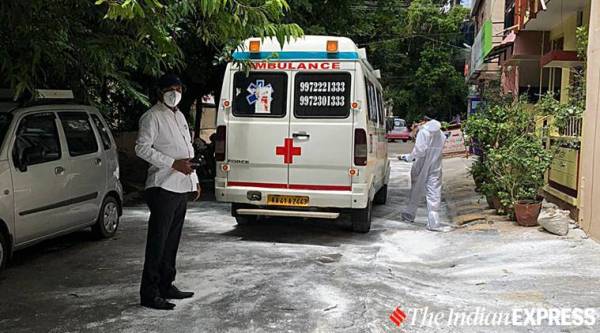 As many as 2344 of the cases from the state were in Bengaluru. Express photo
Karnataka Bengaluru Coronavirus News Live Updates: Karnataka reported over 4000 cases and 100 deaths in a single day for the first time since the Covid-19 pandemic began on Thursday. While 4169 cases were recorded from across the state on July 16, as many as 2344 of them were in Bengaluru.
At the same time, 70 out of the total 100 deaths linked to the pandemic on Thursday were in Bengaluru. With 51,422 cumulative positive cases, Karnataka has the fourth-highest caseload of novel Coronavirus infections in the country.
Meanwhile, the 100-year-old Victoria Hospital attached to the Bengaluru Medical College and Research Institute (BMCRI) has seen a 97% death rate among Covid-19 patients put on ventilators — far in excess of comparative numbers for countries like the UK, US, and Italy with high coronavirus fatalities.
Live Blog
Catch the latest news in Bengaluru and Karnataka as we bring you live updates on COVID-19, lockdown 5.0 and phase 1 of the unlock across the state and more through the day.
Speaking to reporters in Chitradurga district, Sriramulu said, "Only God can save us from Coronavirus and we have to bring in caution on our own."
Meanwhile, several protests are brewing within organisations of frontline workers in different parts of Karnataka alleging that their basic demands are yet to be met.
READ | Karnataka: AYUSH doctors on indefinite strike, PG doctors await pending stipend
At the same time, with the State witnessing a sharp spike in COVID-19 cases, Health Minister B Sriramulu said only God can save the state, insisting that public cooperation was key to controlling the spread of the pandemic.
READ | Only God can save us: Karnataka Health Minister on coronavirus spread
Here are a few contacts that might come handy for you in emergency situations:
COVID-19 related queries / emergencies / clarifications: 104 (toll free); +91-80-4684-8600/6669-2000 | Home Quarantine-related queries: Telegram messenger/WhatsApp – +91 97777 77684, Voice call – 080 45451111 | BBMP control room: 080-22221188 | In case of power disruptions, contact BESCOM: 1912. If the water supply is hit in your area, contact BWSSB: 1916
© IE Online Media Services Pvt Ltd